You know that I love coffee and sweets. Something you may not know about me is that I love shrimp.
It's my favorite food. I'm like Bubba from Forrest Gump. I could eat shrimp any way, shape or form.
"Anyway, like I was sayin', shrimp is the fruit of the sea. You can barbecue it, boil it, broil it, bake it, saute it. Dey's uh, shrimp-kabobs, shrimp creole, shrimp gumbo. Pan fried, deep fried, stir-fried. There's pineapple shrimp, lemon shrimp, coconut shrimp, pepper shrimp, shrimp soup, shrimp stew, shrimp salad, shrimp and potatoes, shrimp burger, shrimp sandwich. That- that's about it." ~Bubba
When I was a little girl, my mom used to buy these little shrimp cocktail from our neighborhood Safeway* store. They came in a small jelly-type jar and they tasted amazing.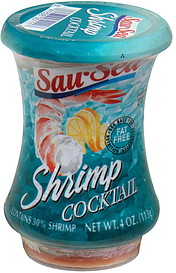 I'm sure they were probably one of those you-either-love-them-or-hate-them kind of food items but for us, it was a treat when Mom bought them.
I've tried to find them and evidently, they are no longer made like this. It's a shame. From what I've discovered, the company that makes them, Sau Sea Foods Inc, doesn't make them in the jar anymore. They now come in a plastic container.
I see 2 problems with this new version. First, shrimp are not soaking in the cocktail sauce absorbing all those wonderful flavors. Second, you won't have the cool little glass to keep.
I remember getting these as a kid and they were always slightly frozen. We didn't wait for them to thaw completely. They were amazing with the slightly slushy consistency. A shrimp-cicle, one might say.
I would love to have one of the originals again, just once. Ok, I admit I probably would love it even better to have it more than once.
I tried finding a recipe online for anything similar but had no luck. I will continue this journey.
I did find this recipe but I haven't tried it. Yet.
Shrimp Cocktail
32 shell-on (21 to 25 count) tiger shrimp
For the brine:
1/4 cup kosher salt
1/4 cup sugar
1 cup water
2 cups ice
For the cocktail sauce:
1 (14 1/2-ounce) can diced tomatoes, drained
1/2 cup prepared chili sauce
4 tablespoons prepared horseradish
1 teaspoon sugar
Few grinds fresh black pepper
1/2 teaspoon kosher salt
1 tablespoon olive oil
Sprinkle Old Bay seasoning
Using a pair of scissors or a serrated knife, make an incision down the backside of the shrimp, following the intestinal track. Eviscerate shrimp and rinse under cool water leaving shells intact.
Place cleaned shrimp into a bowl with brine and refrigerate mixture for 20 to 25 minutes. While shrimp are brining, place tomatoes, chili sauce, horseradish, sugar, pepper, and salt in food processor and blend until smooth. Refrigerate cocktail sauce until ready to serve.
Place a baking sheet or broiler pan under oven broiler and preheat for 5 minutes. Remove shrimp from brine and drain thoroughly. Rinse the shrimp under cold water and dry on paper towels. In a large bowl, toss shrimp with olive oil and sprinkle with Old Bay seasoning, if desired.
Place shrimp onto a sizzling sheet pan and return to broiler immediately. After 2 minutes, turn the shrimp with a pair of tongs. Return the shrimp to broiler for 1 minute. Transfer to a cold cookie sheet. Refrigerate immediately.
Once shrimp have chilled, arrange with cocktail sauce in a martini glass or as desired.
*Our Safeway store hasn't been a Safeway in years. It grew up to become a Food Barn and now has graduated to a Thriftway. They do not carry my beloved shrimp cocktail. Darn them!