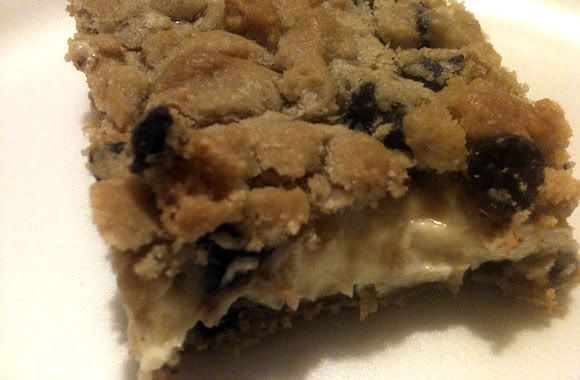 Today is National Chocolate Chip Day.
I thought every day was chocolate chip day. Well maybe that's just for me.
In celebration of this glorious holiday, I'm once again sharing my favorite recipe that contains chocolate chips:
Chocolate Chip Cheesecake Bars!
These are yummy and easy to make.
I can almost guarantee you won't be able to eat just one.
Start by preheating your oven to 350 degrees.
The ingredients:
1 tube of Pillsbury Chocolate Chip Cookie Dough (I specify Pillsbury because of the size of the package. If you buy the Walmart brand, the package is smaller and you may have to use 2)
1 package of cream cheese
1 egg
1/2 sugar
In a mixing bowl, add the last 3 ingredients and beat until smooth.
In an ungreased baking dish (I used my Pyrex 7 x 11 glass baking dish), put 1/2 of the cookie dough. Using your fingers, smash it down covering the entire bottom of the dish evenly forming the bottom crust. (The kids would love doing this part!)
Then add the cream cheese mixture. Spread it evenly across the first layer of cookie dough.
Crumble the remaining cookie dough on top of the cream cheese mixture covering the top. Don't worry about holes since as it bakes it will spread.
Place in the oven and bake for 30 to 35 minutes.
Once you pull it from the oven, the center will be slightly soft. Don't worry about this. As it cools, it will fix itself.
Once cooled, cover and place in the refrigerator until time to serve.
You can eat these with your fingers or with a fork. I, personally, could just eat them right from the pan. They're rich. They're creamy. They're cookies. They're cheesecake. What more could you want?
Well, if it had been in the budget, I would have wanted chopped macadamia nuts on top. Oh my goodness, it can only get better from here!